E20 Class

Qualcomm-based WiFi6E fully featured on LGA Module

SMD Chip-on-Board with available edge-connector carriers for broad compatibility.
Discover More
Technical & Downloads
Build with QUALCOMM®
The E20 deploys the QCA206x wireless SoC processor family, with the QCA2066 as the flagship model and part of the FastConnect 6900 and Networking Pro architectures.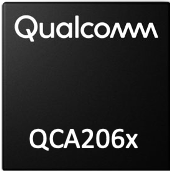 Extended channels, extra band? It is 6E.

Modules that offer a full implementation of Wi-Fi 6E (IEEE 802.11ax extended to include the ISM 6Ghz bands).
The AIRETOS E20 Class opens a new way to match application requirements with hardware and firmware feature options for Wi-Fi and Bluetooth interfaces. It offers a complete platform for use with the entire QCA206x family of SoCs, along with options for handling Bluetooth signaling requirements in all possible combinations. Even more Qualcomm ASICs are supported, like the WCN685x family and the QCA6898, for targeted design requirements.
The AIRETOS® E20 Class operates a dual-MAC for connections up to 3 Gbps data rate in Dual Band Simultaneous modes (2x2+2x2 11ax DBS). The use of OFDMA and 160MHz wide channels, effectively quadruples the throughput performance and delivers up to 50 percent additional range compared to Wi-Fi 5 devices; even in dense networking environments and with multiple concurrent MU-MIMO links running via a single module. The E20 Class reflects VOXMICRO's continuing commitment to leading wireless connectivity technologies.

Qualcomm ASIC



Latest Wireless Standards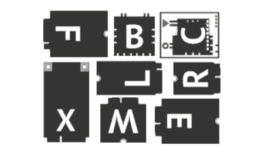 Carrier choice

Choose Form-Factor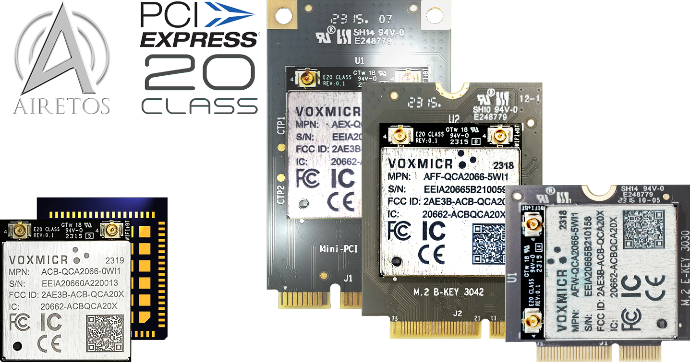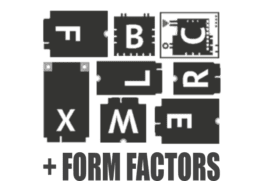 Flexible Form Factor
Other than for direct SMT, the E20B Series is available adapted on carriers with edge-connectors for standard slot-in form-factors: M.2 E-Key, M.2 B-Key and miniPCIe.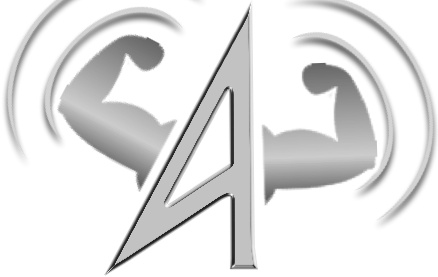 Top power output, across channels

Full external FEM design for enhanced range, energy and Tx power accuracy; 24dBm aggregate output for WLAN and 10dBm for BT.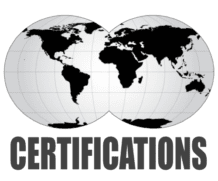 World Certifications
The E20 comes with approvals to the major domains of USA, Canada and EU with more antenna types. Regulatory coverage is set to expand to more and further countries.
All the WiFi6 advanced features and tools: empower system design with all the actual advanced features of power-management, seamless antenna sharing with LTE, LTE-U and 5G, offloading traffic for minimal host utilization, support for 160Mhz channel bandwidth for 5 GHz and 6 GHz at 11ax speeds, low power PCIe (w/L1 sub-state) interface, integrated close-loop power detector, Dynamic Frequency Selection (DFS, radar detection) and more.
Complemented by a complete HDK including an Evaluation Board and an LGA CoB socket tool, for access to all PCM, Debug and UART interfaces.
Systematically supported with open source drivers for Linux (ATH11K) and Android, as well with Closed Source Drivers (CLD) for advanced features.
mbo Bluetooth 5.2 on-board: all the latest features of BT5.2 and more, like: BLE long range, class 1 and class 2 power-level transmissions without requiring an external PA, dual eSCO and dual A2DP streams, ACL support for A2DP true stereo.
Flexible configuration: ASIC Variant, CoB + carrier, choice of BT interface bus, antenna and grade.